Preserving Ridgefield's History and Architecture
12/2/2020 (Permalink)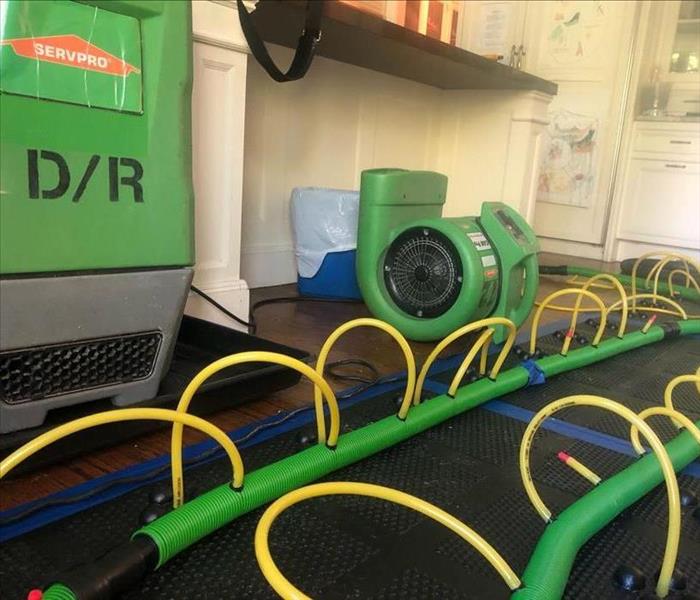 Did you experience water damage in your home? Call SERVPRO to mitigate your water damage needs in your home.
SERVPRO of Danbury / Ridgefield Restores Ridgefield Homes After Water-Related Disasters Occur
Ridgefield is a New England town packed with history and classic New England charm. This bustling Fairfield County locale was first incorporated in 1709, a year after English settlers from nearby Milford and Norwalk purchased the land from the Ramapo tribe's chieftain, Catoonah. American history enthusiasts, particularly those with a keen interest in the Revolutionary War, are sure to find plenty to pique their interest here.
Ridgefield is home to a wealth of beautifully preserved historical locations that are registered on the National Register of Historic Places, including:
The Keeler Tavern and the Phineas Chapman Lounsbury House on Main Street, the latter of which is also referred to as the Ridgefield Veterans Memorial Community Center
The French army's march route, led by Comte Rochambeau in 1781, on Ridgebury Road. On the same road lies the Ridgebury Congregational Church
The Branchville Railroad Tenement on Old Main Highway
Other historic houses on the register include the Benedict House and Shop, the Frederic Remington House, the Thomas Hyatt House, and the Lewis June House. Ridgefield is also home to the Hugh Cain Fulling Mill and Elias Glover Woolen Mill Archaeological Site, which houses industrial remains dating back to the American Revolution.
The Battle of Ridgefield and the Keeler Tavern
On April 27, 1777, Ridgefield turned from a quaint New England town into a battleground for American and British soldiers. The British, led by the Royal Governor of New York, Major General William Tyron, first destroyed supplies meant for George Washinton's troops in Danbury before advancing toward Compo Beach. Seven hundred militiamen on what is now Main Street fended off the British forces. They chased them down to Westport, where the Redcoats expected to contact their ships on the coast.
Key figures in this battle included:
Brigadier Generals Gold Selleck Silliman and Benedict Arnold
Major General David Wooster, who led the Connecticut militia along with Silliman and Arnold
While Benedict Arnold is known for defecting to the British military in 1780, his years of military experience and leadership during the Battle of Ridgefield were crucial to staving off British soldiers in the town and inflicting casualties as the troops marched back to Compo Beach.
The British achieved their tactical goals in reaching their ships in Westport. Still, the skirmishes at Ridgefield united American troops and irregulars alike with allies like the French, who would be instrumental in the defeat of King George III's army.
To this day, the Keeler Tavern has a British cannonball lodged in a post as a proud reminder of the endurance of the American troops and their allies. Visitors can find out more about the Battle of Ridgefield at the Keeler Tavern Museum, which was established in a property built in 1713 after Timothy Keeler purchased his grandfather's home.
In the mid-twentieth century, the Keeler Tavern Preservation Society eventually garnered the funds to purchase the original home and open the Keeler Tavern Museum in 1966.
The French Army in Ridgefield
King Louis XVI of France sent his army to assist, led by General Jean-Baptiste Donatien de Vimeur, the Comte of Rochambeau. The French aid, especially Comte de Rochambeau's men, was crucial to leading American soldiers to victory in the Battle of Yorktown in 1781.
Without the aid of the well-trained French military backing the American Continental Army, Lord Cornwallis may well have won in Yorktown. However, over 20,000 French infantry and seamen came to the aid of 9,000 American troops led by George Washington. In Ridgefield, Rochambeau and his men made camp in the fields near the Congregational Church that still stands to this day.
Comte de Rochambeau's legacy has lived on in many ways:
His son, Donatien-Marie-Joseph de Vimeur, Vicomte of Rochambeau, played a crucial role in several pivotal military campaigns and revolutions of his own, including the French Revolution, the Napoleonic Wars, and the Haitian Revolution.
Several locations across the U.S. are named after the Comte, including a middle school in Southbury, a bridge spanning across the Potomac River in Washington, D.C., and a French international school in Bethesda, Maryland. Connecticut, in particular, has many locales throughout the state named in Rochambeau's honor.
The Comte is also referenced in the acclaimed Broadway musical Hamilton in two songs: "Guns and Ships" and "Yorktown (The World Turned Upside Down)."
How Do SERVPRO Professionals Deodorize Water Damage in Ridgefield Homes?
What sets SERVPRO apart from other water restoration companies in Ridgefield is its unique combination of locally-owned and operated locations with access to large-scale education, tools, and resources to maintain a high standard for cleanup and restoration.
This commitment to a comprehensive cleaning is especially crucial for odor control after water damage has affected a property. Odors are frequently one of the early signs not just of water damage but of potential microbial growth on a property.
SERVPRO Odor Control Technicians (OCTs) take the following into account when determining what methods are ideal for deodorization:
Whether affected carpeting can be easily lifted for odor removal, if not, technicians rely on injection systems to deodorize carpet and pad.
If mold odors are present after the initial round of deodorization procedures has been implemented, OCTs may rely on sealers to encapsulate and mitigate odor-causing residues.
The size and openness of the area affected by unpleasant odors determine the equipment and materials best suited to mitigation. A burst pipe in an open kitchen, for example, may require the use of an ultra low-volume fogger for more efficient deodorization.
Odor control measures are crucial to returning a water-damaged home to a preloss state that looks and feels clean. SERVPRO technicians receive extensive education and training on industrial-grade deodorization tools best suited to a diverse array of situations.
SERVPRO of Danbury / Ridgefield provides homeowners with Faster To Any Size Disaster mitigation and restoration services when they call (203) 791-0920.