About SERVPRO of Danbury / Ridgefield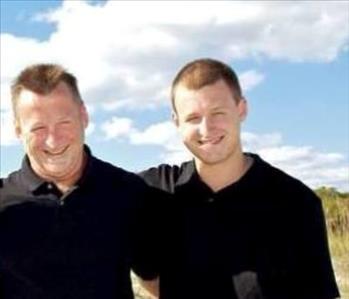 Scott & Calvin Yoran
Owners of SERVPRO of Danbury / Ridgefield
SERVPRO of Danbury / Ridgefield is locally owned and operated by Scott Yoran, see photo to the right. Scott is a locally trusted restoration and remediation professional with over 30 years in the Danbury area.
Scott is passionate about the work of SERVPRO because Scott is passionate about helping his local community. The relationship a local SERVPRO franchise has with it's neighbors is one of trust and commitment. Scott sees the work of this SERVPRO as a meaningful partner in the community helping families and businesses in some of their more vulnerable moments.
WHAT WE DO
SERVPRO of Danbury / Ridgefield specializes in the cleanup and restoration of properties that have experienced fire, smoke or water damage. Our services are able to address to different categories of clients: residential, industrial and commercial properties.
Our services can be thought of in three categories:
Clean-Up - Clean-up is the process of removing debris and soot and damaged material.
Remediation - Remediation speaks to the process of bringing something back that was once damaged. For example, mold is remediated.
Restoration - Restoration is the process of making new again. We tear out the old and rebuild.
Addressing water and fire damage requires all three. At times we focus-in on our clean-up, at other times we focus-in on remediation and at other times we focus-in on restoration.
OUR TEAM
Our staff is highly trained in property damage restoration. Our team receives in-team mentoring and pursues certification through the IICRC, an industry certification and standard organization.

Our teams have responded to large losses and brings the experience necessary to properly mitigate the damage no matter what the size. With assorted vehicles, 3 trailer mounted generators and a large loss dehumidification trailer, SERVPRO of Danbury / Ridgefield is equipped to respond 24/7.
We are part of the Danbury Chamber of Commerce, Ridgefield Chamber of Commerce, Blue Goose and Professional Insurance Agents Association (PIA).
If you would like to schedule service for your home or business, please call today!

Serving you since 1967, SERVPRO is the cleaning and restoration brand you know and trust!
Insurance and Payment Information
For a stress free claims process, SERVPRO works with your insurance to help manage the insurance process and paperwork.
We also accept the following credit cards for your convenience:


Certifications
AMRT - Applied Microbial Remediation Technician
ASD - Applied Structural Drying Technician
CCT - Carpet Cleaning Technician
CRT - Color Repair Technician
ECTP - Employee Certification Training Program
FSRT - Fire & Smoke Damage Restoration Technician
HST - Health and safety Technician
IICRC Certified Firm
OCT - Odor Control Technician
OSHA - 10-hour General and/or Construction Industry Training Program
OSHA - Other Training
RRRP - Lead-Based Paint Activities and Renovation
RRT - Carpet Repair & Reinstallation Technician
SMT - Stone, Masonry and Ceramic Tile Cleaning Technician
WRT - Water Damage Restoration Technician
Affiliations
ABRA- American Bio Recovery Association
CAI- Community Assocications Institute
Greater Danbury Chamber of Commerce
IFMA- International Facilties Management Association
IICRC- Institute of Inspection Cleaning and Restoration Certification
Awards
2011 - SERVPRO Industries 25 Year Award
2012 - Second Generation Award